Welcome to my blog post where I am going to discuss our options for at-home sauna therapy here in the U.K. I am a huge fan of sauna therapy, not only is it beneficial in healing from numerous chronic health conditions, it may also prevent numerous conditions such as Alzheimer's and cardiovascular disease. Not to mention it reduces all cause mortality! I honestly think a sauna is one of the best investments we can make in our health.
You may also be interested in this blog post that details the health benefits of sauna therapy:
So what are the options available to us?
Get Fitt
Since 2004 Get Fitt TM (click here) have specialised in providing the latest Far Infrared technologies and offering personalised Detoxification Programmes. They work closely with doctors, healthcare professionals, clinics and the public in the United Kingdom, and Worldwide. Get Fitt create detoxification programmes using the latest Far Infrared and Environmental Technologies.
They have various products ranging in sizes and methods of use – ranging from mats you can sit on to cocoon style products as seen below. You can also rent products from them making it much more accessible for many.

Clearlight Saunas
Clearlight Saunas (click here) are my favourite purely because it provides the 'typical' sauna experience. They sell 1-person cabin saunas which are the best on the market. They are the lowest EMF sauna on the market.
I love their concept of following a Clearlight Life Lifestyle which is about becoming the healthiest version of yourself with the tools to constantly improve, set goals, embrace change and connect your body and mind to live a life by your own design.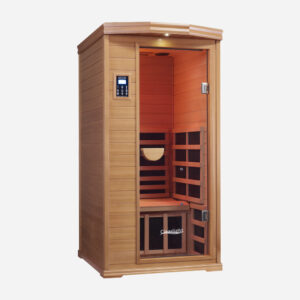 Fir-Zone
Fir-Zone (click here) are the cheapest of the three but still do a great job!

There are certainly other options in the market but these are the three I have experience with and thus recommend.