18:00 Sunday 8th to 12:30 Friday 13th May 2022
Little Earth, Earth-Spirit Centre, Somerset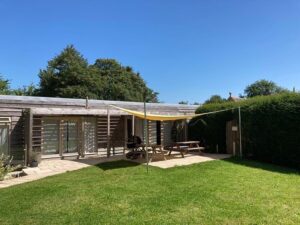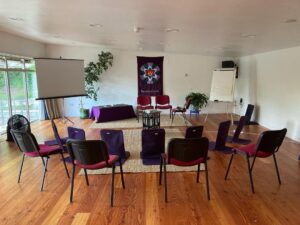 I am hosting a retreat that will be on the theme of resilience. We will spend four days together learning about physical, mental, emotional and spiritual resilience.
The retreat will include:
1-2 breath sessions per day.
Educational talks providing tools to cultivate physical, mental, emotional and spiritual resilience.
Contemplative practices – done both individually and in dyads or small groups (for example meditation and journalling exercises)
Sauna therapy.
Ice baths.
A goodie bag.
Sound bath and kirtan evening.
Cocoa ceremony.
Vegetarian breakfast, lunch and dinner.
Ensuite individual rooms.
The Program
"The process of adapting well in the face of adversity, trauma, tragedy, threats, or even significant sources of stress."
We will introduce key concepts including:
Allostatsis and allostatic load.
Vulnerability (including adverse childhood events).
Heart Rate Variability.
We will also discuss how diet, movement, light, temperature, fasting all positively or negatively influence our resilience.
Ice Baths: We have a special guest joining us who will facilitate the ice bath sessions. We will have private access to the sauna for the afternoon too.
Breathwork: We will have our first breathwork session.
"To be able to effectively set goals and consistently achieve them, without getting distracted. You see challenges, change, and adversity as opportunities rather than threats and thus are likely to be flexible and agile."
We will discuss how we can enhance our mental resilience through specific exercises stemming from such modalities as cognitive behavioural coaching and mindfulness. We will explore:
Creating a list of our values so we can align our behaviour with what's important for us.
We will also explore the importance of mastery, optimism and positive-psychology, and psychological flexibility – two key terms when discussing mental resilience.
Morning session: Positive Psychology, optimism, and cognitive behavioural coaching.
Morning session: Mindfulness training: Intention, Attention, Attitude
Afternoon session: Breathwork.
Evening session: Sound bath and kirtan.
"The ability to generate positive emotion and the ability to recover from negative emotion."
We will discuss the role that emotional regulation plays in enhancing our resiliency drawing on research from The Institute of HeartMath, the 'Broaden and Build' theory of emotions, and Shame Resilience Theory from Brene Brown. Exercises will be provided to support our ability to regulate our emotions. We will also touch on: gratitude, and the concept of savouring our experiences. We will also discuss relationships and the the concepts of family resilience and community resilience.
Morning session: How to cultivate emotional resilience and the role of our relationships within this.
Afternoon session:: Breathwork.
Evening session: Cocoa ceremony.
"Concerned with the  internal life of mind and spirit and its association with being in the world. It implies a capability for a deep understanding of existential questions and insight into multiple levels of consciousness. In addition to self- awareness, it implies awareness of our relationship to the transcendent, to each other, to the earth and all beings. It enables one to maintain both internal and external peace and display love regardless of the circumstances whether stress or acute inconsistency. It could, therefore, help in conflict management and calm co-existence in the society."
Spirituality may be at the heart of resiliency. We will explore what spirituality is (spoiler alert – it includes life purpose), how we can enhance it. We will discuss and explore contemplative exercises including: journalling, meditation, mindful movement, yoga, breathwork.
We will also discuss saying resilient when living with chronic health issues.
Finally we'll discuss creativity and it's role in enhancing resiliency. For educational purposes only, we will briefly touch on the role psychedelics may play in enhancing our resiliency through supporting creativity.
Morning session: An exploration in to spirituality.
Afternoon session: Breathwork.
Evening session: TBC
Ultimately this week is about:
Connection and fun.
Learning tools that you can take away to ensure you can build a resilient mind, body, and spirit. This will range from dietary and lifestyle considerations (the physical) through to emotional self-regulation (emotional resilience) and exercises in exploring and finding out our values, vision, purpose in life (mental and spiritual resilience).
[/vc_column_text][/vc_column][/vc_row]
Price: £600 all inconclusive
You can register you spot by clicking below! And if you would like any more information please do not hesitate to contact me.