Alex Manos
Clinician
Trainer
Coach
Mentor
I am an Institute For Functional Medicine Certified Practitioner (IFMCP), with a MSc in Personalised Nutrition, a 1st class degree in Nutritional Therapy, and a background in personal training. I am also studying to be a Transformational Life Coach.
Away from clinic, I am a mentor having co-founded The Applied Functional Medicine Mentoring Program. I have also co-founded Healthpath, a functional testing company specialising in gut health.
I also lecture at various colleges and institutions including The Institute Of Optimum Nutrition and on the MSc program at The Centre For Nutritional Education and Lifestyle Management.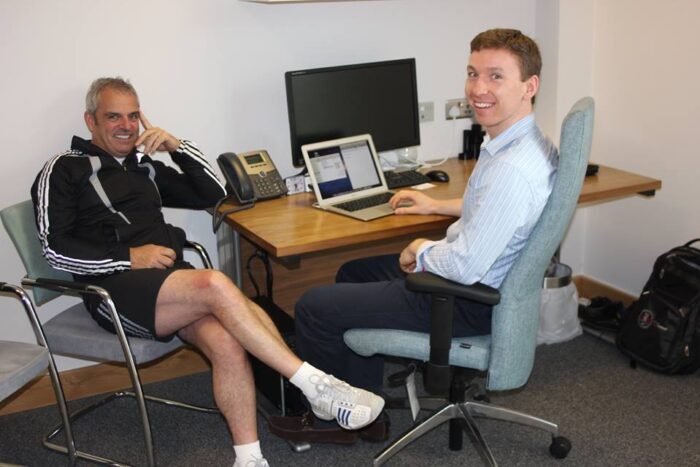 My Own Health Journey
I was a keen athlete growing up. A plague of injuries however, in my teenage years, fuelled my passion for personal training. It was when I was diagnosed with Irritable Bowel Syndrome (IBS) at 18, that both my passion for nutrition, and, my journey really began.
At 18, rather than being out on the rugby pitch with my friends, I was having to sleep for up to two hours, struggling with fatigue, brain fog, stomach cramps, and terrible acne. Told I might have to live with IBS for the rest of my life, I questioned the view and began carrying out my own research. This led me to study at the renowned Institute of Optimum Nutrition (ION) where I graduated as a Nutritional Therapist.
During the three-year ION course, I studied with world leading providers in personal training including the National Academy of Sports Medicine (NASM), EXOS, The Grey Institute, Functional Movement Systems, and Cor-Kinetic. I then started to understand the importance of movement and exercise within the framework of holistic health.
I went on to complete a degree in Nutritional Therapy at The Centre of Nutritional Education and Lifestyle Management, achieving a 1st class Honours, and then a MSc in Personalised Nutrition.
Through this period I also certified in Applied Functional Science with the Gray Institute, and as a certified Performance Coach through both NASM and EXOS.
I am currently certifying with Animas Centre Of Coaching, as a Transformational Life Coach. This I felt was essential to do, as so many of the barriers I, and my clients, were facing seemed to be behavioural. Many of us know what we 'should' and 'shouldn't do', yet we still struggle to make the required changes.
In 2016 I graduated from The Institute For Functional Medicine, at the time being one of approximately 18 practitioners in the UK holding this certification.
I now run a clinic in Weybridge, Surrey, and also online/remotely via Skype, FaceTime and telephone.
I also have a podcast, The Alex Manos Podcast, where I speak to leading experts in Functional Medicine, exercise, and psychology. You can listen via numerous podcast platforms such as iTunes as well as on my website: https://www.alexmanos.co.uk/the-alex-manos-podcast/.
Qualifications
Alex has a MSc in Personalised Nutrition and wrote his dissertation on Cortisol Resistance in Chronic Fatigue Syndrome. He has also completed Dr. Siebecker's SIBO certification.
MSc Personalised Nutrition
BSc Nutritional Therapy
IFMCP
Dr. Siebecker trained SIBO Practitioner.
NASM Certified Personal Trainer
NASM Corrective Exercise Specialist
NASM Performance Enhancement Specialist
EXOS Performance Coach
NLP Life Practitioner
FMS (Functional Movement Systems)
SFMA
CAFS – Certified in Applied Functional Science
3D MAPS
StrongFirst Kettlebell Instructor.