I am a IFM Certified Practitioner, with a background in nutritional therapy, personal training and life coaching. I am also a lecturer, assessor and writer in the health and fitness industry.
My Own Health Jounrey
I was a keen athlete growing up. A plague of injuries however, in my teenage years, fuelled my passion for personal training. It was when I was diagnosed with Irritable Bowel Syndrome at 18, that both my passion for nutrition, and, my understanding of the role nutrition plays in health, began.
At 18, rather than being out of the rugby pitch with my peers, I was having to sleep for up to two hours, struggling with fatigue, brain fog, and terrible acne. Told I might have to live with this for the rest of my life, I questioned the view and began carrying out my own research. This led me to study at the renowned Institute of Optimum Nutrition (ION) where I graduated as a Nutritional Therapist.
During the three-year ION course, I studied with world leading providers in personal training including the National Academy of Sports Medicine (NASM), the UK Strength and Conditioning Association (UKSCA), The Grey Institute, Functional Movement Systems, Cor-Kinetic.
I went on to complete a degree in Nutritional Therapy at The Centre of Nutritional Education and Lifestyle Management, achieving a 1st class Honours, and then a MSc in Personalised Nutrition.
Through this period I also certified in Applied Functional Science with the Gray Institute, and as a certified Performance Coach through both NASM and EXOS.
More recently I have trained with NLP Life, certifying as a NLP Practitioner, and, at Animas Centre Of Coaching, certifying as a Life Coach.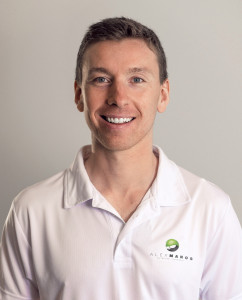 This gives Alex a unique breadth of experience to support his clients through food, movement and coaching.
Qualifications
Alex has has a MSc in Personalised Nutrition and wrote his dissertation on Glucocorticoid Resistance in Chronic Fatigue Syndrome.
MSc Personalised Nutrition
BSc Nutritional Therapy
IFM Practitioner
NASM Certified Personal Trainer
NASM Corrective Exercise Specialist
NASM Performance Enhancement Specialist
NASM Golf Performance Specialist
EXOS Performance Coach
NG360 Performance Golf Coach
NLP Practitioner
FMS
SFMA
CAFS – Certified in Applied Functional Science
3D MAPS
His sheer fascination with health and wellbeing really rubs off on you and you find yourself developing a similar trait, prioritising your health and fitness as a result. Not only did Alex help me find my passion for exercise again but he also helped me understand why I had been putting it off, therefore removing what was a huge barrier for me.